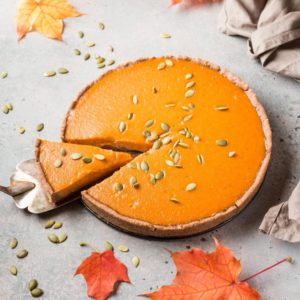 Pumpkin Pie with Yellow Maca
This pumpkin pie with maca is a delicious autumn side dish to add to your meal.
Ingredients
1 pie shell 9 1/2-inch whole wheat or gluten-free baked pie shell (or your favorite raw crust)
1/4

cup

toasted unsweetened coconut flakes
1

Tbsp

chopped crystallized ginger
1

cup

raw cashew pieces, soaked for a few hours, rinsed and drained
1-1/2

cups

pumpkin puree
1/4 cup + 1 Tbsp. coconut butter
1/4 cup + 2 Tbsp. water
1/4

cup

non-dairy milk
1

Tbsp

maca powder
1

Tbsp

grated fresh ginger
1

tsp

vanilla-flavored stevia liquid
1

tsp

cinnamon
1/2

tsp

powdered ginger
pinch allspice
Whipped coconut cream, for topping, optional
Instructions
In a small bowl combine the toasted coconut and the crystallized ginger. Set aside.

Put the cashews, pumpkin puree, coconut butter, water, non-dairy milk, maca, ginger, stevia, and spices in a high-speed blender and process until very smooth.

Scrape about half of the cashew-pumpkin mixture into the pie crust and smooth.

Sprinkle the toasted coconut/ginger over top and carefully add the remaining cashew-pumpkin mixture over top.

Spread until even and smooth.

Chill for several hours or until firm.

Cut into slices and serve with whipped coconut cream.