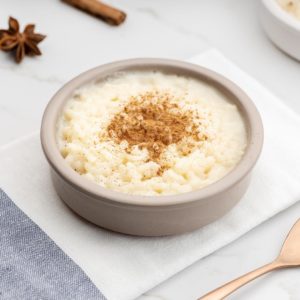 Orange Rice Pudding with Maca
A delicious sweet and citrucy dish that will soothe your comfort food cravings.
Ingredients
2-3

Tbsp

red maca
1 strip orange peel, plus 1/2 teaspoon grated zest
1

Tbsp

unsalted butter
Kosher salt
1

cup

arborio rice
4

cups

whole milk
3/4

cup

granulated sugar
2 cinnamon sticks
2

tsp

vanilla extract
1/2

cup

mascarpone
3

Tbsp

confectioners' sugar
Ground cinnamon, for sprinkling
Instructions
Combine the orange peel, 2 cups water, the butter and a pinch of salt in a saucepan and bring to a boil.

Add the rice and return to a boil, then reduce the heat to low and cook, shaking the pan occasionally, until the liquid is absorbed, about 15 minutes.

Bring the milk, granulated sugar, cinnamon sticks and vanilla to a low boil in another saucepan.

Add the rice and simmer over medium-low heat, stirring, until the liquid is mostly absorbed, about 15 minutes.

Stir in the grated orange zest and 1/4 cup mascarpone.

Transfer the rice pudding to a large bowl and let cool, then cover with plastic wrap and refrigerate until cold and set, about 2 hours.

Beat the remaining 1/4 cup mascarpone and the confectioners' sugar in a bowl.

Remove the cinnamon sticks and orange peel from the pudding.

Serve topped with the mascarpone and cinnamon.