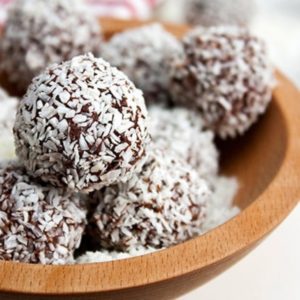 Maca Coconut Chocolate Balls
Protein filled snack for at home or on the go!
Ingredients
1 heaping cup of dried dates
1

cup

of desiccated coconut
2 tbsp of coconut oil
1

cup

of crushed nuts (pecans,cashews,almonds)
1/4

cup

of goji berries
1/4

cup

of maca powder (Incaliving)
1/2

cup

of shaved coconut
pinch of salt
Instructions
Process the dates and coconut in a food processor until they start to clump together.

Add the maca powder, goji berries, crushed nuts and salt, then melt the coconut oil until it becomes liquid.

Place all ingredients inside a big gowl and start mixing, you can also use a food processor if prefer while drizzling in the coconut oil until well combined.

Remove the mixture from the food processor and or from the bowl and place roll into balls on a bed sheet of the shaved coconut.
Notes
Notes:
Kept in the fridge, these should last at least a week if not longer. They could also be frozen. Instead of balls, you could press the mixture into a pan and cut into bars or squares.